The 4DSOUND Suite brings powerful features to explore, challenge and advance the potential of spatial sound
The 4DSOUND Suite is much more than a way to spatialize existing music, it's a spatial composition, performance and sound design environment

Designed to encourage thinking
in spatial dimensions

The Suite allows users to design sound spatializations, immersive performances, compositions and interactive installations that directly control the articulation of sound in space with great sculptural detail.
Intuitive workflow
4DSOUND's intuitive user interface is capable of integrating with a variety of workflows and creative processes; from detailed composition of the spatial qualities of sound to on-the-fly spatialization of live music performances and interactive installations.

Connection between Ableton and the 4DSOUND Engine.

Spatial sound productions can be transferred directly from studio usage to large-scale public events and spatial installations without the need for in-between conversion and adaptation of the sound material.
Pan Daijing spatialized live in 4DSOUND by William Russell for Monom Studios. Fuchsbau Festival. Photo: Roxana Rios.


Beyond object-based audio

The Suite offers more than twenty predefined shapes, each with their own characteristic algorithms and dynamic particle counts at a high resolution. The properties of these shapes are integrated with audio processing, providing spatial sound synthesis with incredible depth. Adding custom dynamic shapes is also possible using a Python scripting interface.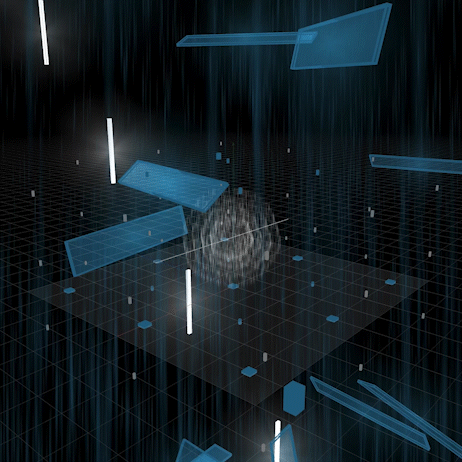 The particle system, paired with omnidirectional sound technology, enables the production of Sound Holograms, which manifest as highly vivid and dynamic appearances of sound with distinct spatial depth and dimensionality.



Sound design using position,
size and characteristics at its core
While taking the 'natural' behavior of sound as its starting point, the software gives the user the ability to tweak these parameters to surreal extremes, providing the option to use spatial properties as sound design tools.

What would a synthesizer sound like while flying over your head at 300 km/hour?



What would 100 delays sound like when placed throughout the space, slowly moving towards and away from you?



What if a sound was cut in a thousand pieces and spread throughout a grain cloud encompassing the whole space?
These are possible scenarios to explore with the 4DSOUND Suite.
4DSOUND's audio framework is built using the NAP framework; a highly performant, modular, real-time control and visualization platform. The Spatial Audio Framework enables far-reaching customization for a wide range of sound applications to be built upon.

Resonance Room by Nick Verstand and Salvador Breed. Photo: Jip Mus.

User Cases
CONTACT

We make a limited number of free licences available for R&D purposes to creators. The aim of this programme is to encourage the realization of interesting ideas and projects in the fields of arts, architecture and education, and to increase knowledge and awareness of 4DSOUND in the creator community.
Fill in this form to know more.